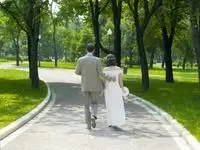 Most couples spend more time planning their weddings than their marriages! With divorce rates at an all time high, it seems that couples are facing more challenges than ever in preserving their relationship stability. In my experience as a counselor, I've seen countless couples who are at the "end of their ropes." Many have very shaky relationship foundations, diminished emotional safety and little ability to deflect internal conflict within their relationship, let alone the stressful external events that life sometimes can dish out. If you think about the amount of financial and emotional investment that goes into preparing for the wedding itself, doesn't it make sense to invest a little in strengthening the relationship at the onset? Many couples preparing for marriage honestly believe they are strong going into the union – and they probably are in a lot of ways. Being caught up with all the loving feelings and other feel-good stuff going on ahead of nuptials, couples often don't consider the potential pitfalls. Those "pitfalls" are often times what leads them into a therapist's office some time down the line.
I strongly encourage couples to give their marriages the best possible start - to do all they can ahead of time to avoid marriage counseling later. Based on research and feedback from couples, there are a number of things that would have been helpful for them to have known about or worked on previously.

Here are six great reasons to get pre marriage counseling:

1) Strengthen Communication Skills: Being able to effectively listen, truly hear and validate the other's position is a skill that isn't necessarily a "given" for many people. Couples that really communicate effectively can discuss and resolve issues when they arise more effectively. You can tune up your talking and listening skills. This is one of the most important aspects of emotional safety between couples.

2) Discuss Role Expectations: It's incredibly common for married couples to never really have discussed who will be doing what in the marriage. This can apply to job, finances, chores, sexual intimacy and more. Having an open and honest discussion about what each of you expect from the other in a variety of areas leads to fewer surprises and upsets down the line.

3) Learn Conflict Resolution Skills: Nobody wants to think that they'll have conflict in their marriage. The reality is that "conflict" can range from disagreements about who will take out the trash to emotionally charged arguments about serious issues – and this will probably be part of a couple's story at one time or another. There are ways to effectively de-escalate conflict that are highly effective and can decrease the time spent engaged in the argument. John Gottman's ( one of the nation's foremost researchers in marriage) research has shown that couples who can do this well are less likely to divorce in the end.

4) Explore Spiritual Beliefs: Spiritual beliefs need to be discussed and an understanding of how they will function in the marriage with regards to practice, beliefs, children, etc.

5) Identify any Problematic Family of Origin Issues: We learn so much of how to "be" from our parents, primary caregivers and other early influences. If one of the partners experienced a high conflict or unloving household, it can be helpful to explore that in regards to how it might play out in the marriage. Couples who have an understanding of the existence of any problematic conditioning around how relationships work are usually better at disrupting repetition of these learned behaviors.

6) Develop Personal, Couple and Family Goals: It amazes me how many married couples have never discussed their relationship goals – let alone personal or family. I honestly think it just doesn't cross their minds! This is a long term investment together – why not put your heads together and look at how you'd like the future to look? Where do you want to be in five years? Approximately when would you like to have children? How many children? There are many areas that can be explored and it can be a fun exercise to do together.
I offer an affordable pre-marital plan for couples looking to start their marriage on a foundation of support and understanding and that addresses all six of these core areas.

If you would like to read additional information about pre-marital counseling at Journeys Counseling Services and/or need help in deciding if pre-marital counseling is for you, please click here first.

Sessions/Fees:
The pre-marital counseling program is one of the greatest investments in your future as a happily married couple! The cost for the whole program is less than the average cost of a wedding day cake. The program consists of 5 sessions (one session per week) which last between one and one and a half hours. The program includes taking the PREPARE premarital inventory and receiving feedback using couple exercises. Please phone or email me for the cost of the program. Cash, check, or credit cards are accepted. Payment can be made in one or more installments to suit your personal budget.

Don't you wish someone would have given you this gift before you were married?

Family and/or friends of the couple can give a combined gift to provide the couple with a gift that will get them off to a good start and last a lifetime! This is great as an engagement or wedding gift! A gift coupon suitable for gift giving is available to present to the bride-to-be or couple.
How do I get started?:
To set up a first appointment or to give as a gift, please call (814-343-1150) , email me at ( [email protected] ),
or click here